What is an Invoice?
An online invoice maker is the date-stamped official document that itemized records transactions between buyer and seller. So this will help manage the business operation to seller.
The invoice tells buyer how much they own seller when the payment is due and what services the buyer provided.
Invoices created that are billed from the seller to buyers are a source document for business accounting which to report for business revenue and tax fillings.
Why Online Invoice Maker Are Important?
To keep track of sales
To keep track of cash payment for sales billed
To request timely payment from buyers for credit sales
To track inventory, for businesses selling products
To forecast future sales using historical data
How to Create Online Invoice?
Only 2 ways to create invoices for buyer business
Excel Invoice
Try Google search for an invoice template that can create in excel that needs manual changes to do the billing to each customer. This excel invoice is most free cost and most easy to create an invoice but will be time-consuming when the seller wants to do report analysis and tracking payment for credit sales. In addition, when want to do tax filings, this is more difficult to manage which needs to refer to printed excel invoices or hardcopy invoices.
Paid Invoice Software
There is much software for small business invoices and startups that offer various pricing plans. For example, JuztInvoice. Some invoice billing software also offers free trial use which sellers can try to use before deciding to sign up for the pricing plan.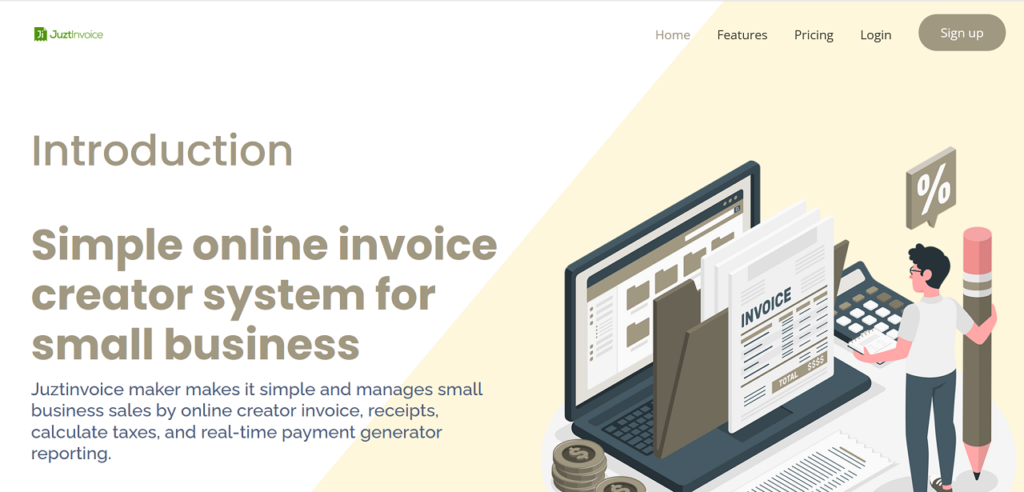 Which Online Invoice Maker Suitable for Startups?
Budget is most important for startups because trying to minimize the business operating costs as low as possible during the first few months due to starting to get sales. Just like JuztInvoice pricing plan as low as 3 dollars only.
Startups also need an online invoice software that allows doing billing anytime, anywhere, this will significantly lower the business costs.
With lower business costs, and higher business profit startups could focus more on sales activities and marketing to promote services/products to boost sales.
Try JuztInvoice, it is simple, easy and flexible invoice software for 2022 startups or buyer try this for 7days before decide to subscribe JuztInvoice pricing plan.
How To Online Invoice Maker?
Startups and Seller can easily learn JuztInvoice anytime anywhere on the youtube channel below
– 1 minute to do invoice
– Full tutorial that mastering all functions and features
JuztInvoice is unique and special from other billing software that only paid pricing plan only can learn all functions and features because JuztInvoice is focusing for startups and small business owners and sellers.
Why JuztInvoice Software For Small Business Invoices?
1 – Multiple Currencies and Taxes
JuztInvoice is an online invoice maker that supports multiple currencies and taxes which easily to monitor and track as well as offers unlimited users for Master Account and User Account and unlimited invoices.
2 – Simple To Learn and Use
JuztInvoice can create an online invoice maker for less than 1 minute and a comprehensive tutorial is systematically prepared for an effective learning process.
3 – Dashboard Monitoring Sales and Payment Performance
JuztInvoice dashboard is showing the current 12 months of invoicing transactions by monthly included users. JuztInvoice Master Account can see all invoices including the User Account. This is easy to control and monitor business sales which user is the outlets/branches. JuztInvoice User Account only can see own invoices.
4 – Tax Control
Tax is manage in Item Creation which allow different item for different tax. When doing invoice billing software, JuztInvoice will follow Item Creation Tax so this easy to calculate invoice tax. A tax report is use to do tax fillings.
5 – Currency Control
Currency billing is managed in Item Creation which allows different items for different currencies. JuztInvoice will do matching between Item currency and Customer currency, for example Item selling in USD, then only Customer currency USD can do invoice billing. This is JuztInvoice specialty to other billing software and invoice software which provide differentiation currencies control to do billing.
6 – Secure Payment Gateway
JuztInvoice only uses PayPal for its payment gateway because it is one of the best payment security in the world. All payment transactions are securely processed by PayPal so startups and buyers can safely use JuztInvoice.
7 – Master Account and User Account
JuztInvoice is providing 2 types of role permission which is Master Account and User Account. Master Account is similar to system administrator which fully manages all features in JuztInvoice. User Account is your team member which Master Account gives permission to use. User Account is unlimited use meaning Master Account can create a user as many as possible.
8 – User Account
JuztInvoice is providing unlimited user accounts Master accounts can create as many as possible. Each User Account created is fully separated access by each other. Example User Account 1 cannot see User Account 2, only Master Account can access User Account 1 and 2.
9 – Flexible and Lowest Subscription Plan (3 dollars to 15 dollars only)
JuztInvoice is the most budgeted subscription system for an online invoice creator. Any expired subscription will not remove the account and all invoices created still remain the same. The subscription plan is always can continue anytime. JuztInvoice also allowed a flexible subscription plan upon renewal. Example started 6months subscription, then renewal for 1month.
10 – Activity Log
All transactions created, deleted, change, and updated are recorded in JuztInvoice Activity Log. Master Account and User Account can always check this Activity Log for any reference situation. Only Master Account can see all in Activity Log. While the User Account only can see its own Activity Log.
11 – Reports for Sale Invoices, Payments, and Taxes
JuztInvoice is a simple design reporting system which easy to use for monitoring and tracking invoices. This report data also can export in excel format/pdf format.
12 – Tracking Payment Invoice
JuztInvoice provides a payment invoice feature in which any payment paid, a receipt can generate which offset invoice to pay. JuztInvoice can easily track and monitor which invoices are already paid and not yet paid
13 – Go Green Invoice Software
JuztInvoice fully supports a green environment that can easily email invoices and receipts. This will help our lovely earth be more environmentally friendly. This is an advantage software for small business invoices, especially startups.
14 – Open Platform System For Billing Software
JuztInvoice can use on any platform device such as a laptop, tablet, Pad, and smartphone. JuztInvoice is a fully online system that can use anytime, anywhere.
15 – JuztInvoice Effective Supports
JuztInvoice is easy and simple to contact for support and a response time is always 24hours. JuztInvoice also welcomes any innovation suggestions/ideas to further strengthen and advance system features which will available free of charge if applicable.
16 – Seven Days Free Trial Online Invoice Software
JuztInvoice is offering a free trial for 7 days which can try to use before subscribe. Upon expired 7 days, the data is still remain available which always can check-in JuztInvoice anytime. JuztInvoice is also allow to continue anytime upon expired 7-day trial use.
17 – Lowest Budget Software for Small Business Invoices
JuztInvoice is offering as low as USD 3 for 1 month or USD 15 for 12 months. Just invoice Flexible renewal subscription approved for 1 to 12 months.
18 – Marketing Communication Invoice Software
JuztInvoice is special from other online invoice makers because providing a channel to inform customers via email. This email can schedule anytime which JuztInvoice will email it out when the date is run. The example can set 4 seasons of promotion for a year so JuztInvoice will email out accordingly
What Startups Can Do More Boosting Sales?
Social Media Management
Nowadays, new startups only focus on social media. Because it has the lowest business cost that can reach a specific audience. However, this will take a long time to create attractive content especially text, images, and video. Try JuztSam Social Media Management which outsource social media so that can focus on how to build and market sales.
Company Website
Website is still relevant today business which startups should be looking this again although some of the startups only use social media. Website is the most communication the target audiences because it is always searchable and looks able in search engines. Try JuztSam Website Design to build a startup company that connecting locally and globally.